-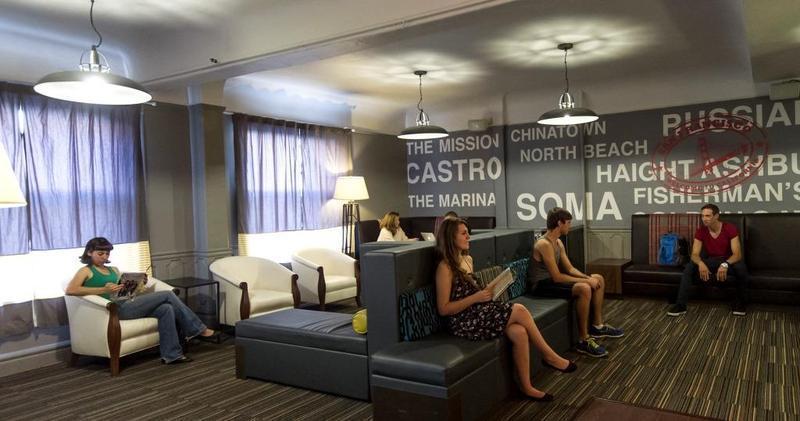 Now here's a spot

to choose when staying in San Francisco! USA Hostel San Francisco is a super clean hostel with a good amount of bath facilities (some are separated e.g., showers from toilets), social space and friendly and organized staff. No attitudes did I encounter. During my stay the lobby and corridors were getting a minor make-over so it should look even nicer now.
It is obvious that care went into structuring the basement to accommodate people traffic as well as encourage socializing. Certainly folks were on their laptops (FREE wifi) - myself included - but a majority were not at any given point. Guests were actually talking and laughing with one another -- like in the olden days when man rode horses and carried six-shooters and women, dresses.
The hostel has a quiet corner for reading...that is so thoughtful!
There is a nice pool table on one side of the room and foosball on the other; a general eating area on one half of the room and the bar, opposite; a movie room with cinema-esque seating, laundry room and, get this, a reading room. The hostel has a quiet corner for reading...that is so thoughtful!
As for the dorm rooms, a private reading lamp (honestly, it doesn't disturb the other people in the room) is installed above the headrest along with a tiny shelf and two working power outlets. I slept wonderfully. When the room became a bit stuffy, as is wont to happen, we cracked open the window, which led to a shaft and the brick wall of the building next door...so no view (but also no noise), or turned on the wall fan. Right outside my room was a bathroom but inside the room we had a sink and mirror, and a closet in addition to the individual lockers (which come equipped with two working power outlets in each).
Like its

sister hostel in Hollywood

, an immense kitchen is stocked for public use. Unlike other places with cute but inadequate space these kitchens are made for commercial use, including more than one huge refrigerator. How professional is it? Think "Gordon Ramsey" without the asshole divo. The FREE pancake breakfast is the best spread I've ever had a hostel offer. Guests (try to) cook the pancakes themselves - I'm surprised at how many girls are downright clueless & clumsy in the kitchen! - from the loads of batter prepared by a hostel employee.